Venue
The 2017 CBAFF Conference is being held in one of the first places to see the sun, Napier. The conference will take place at the newly refurbished Napier Conference Centre and accommodation is available across the road at the Scenic Hotel Te Pania.
Napier Conference Centre
This Hawke's Bay conference venue location is ideal, right on the beach front of Napier with serene ocean views across Hawke Bay. Only a walkway separates our venue from the sea. Napier's beautiful CBD is right here, with its many attractions, activities, shops and restaurants just a few minutes walk from Napier Conference Centre.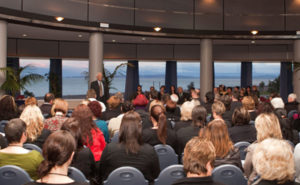 Scenic Hotel Te Pania
The Scenic Hotel Te Pania in Napier enjoys a premium waterfront location on Marine Parade. The hotel's slender curved form echoes the shape of the bay, and guests enjoy sweeping views out over the water. A fresh, contemporary style hotel, Scenic Hotel Te Pania is just a short stroll from Napier's main art deco style street. We have arranged special room rates for conference attendees so please use the link below to access these: