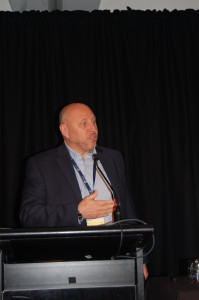 Glyn Hughes, IATA Head of Cargo giving the keynote address, 'The Future of Air Freight'
International Air Transport Association (IATA) Global Head of Cargo Glyn Hughes, has told a New Zealand audience the logistics industry needs to get savvier with technology to capitalise on the needs of the international e-commerce industry.
Speaking at the 20th annual CBAFF conference in Queenstown, Mr Hughes said passenger industry technology had dramatically outstripped air cargo technology, which is still largely paper-based.
"Our industry needs to work more collaboratively and come up with collective solutions. If not, other players will come in with disruptive technology and disruptive solutions."
Richard White, CEO of WiseTech Global, developer of cloud-based software solutions for the international and domestic logistics industry, also focused on the need to update.
In his presentation to the conference, he outlined how 75 per cent of the top 100 global freight forwarders are operating core systems relying on decades old legacy technology.
Mr Hughes and Mr White were among a host of national and international speakers at the two day event.
CBAFF Executive Officer Rosemarie Dawson said "It was a very well attended and well-received conference and the feedback we've had is that our delegates found the content of the presentations extremely useful. We were very pleased to welcome an increased number of attendees from right across the Asia Pacific this year, including quite a few from Australia."
Gerard Morrison, Managing Director of Maersk Line Oceania, discussed the need to adapt to the external events and forces impacting on the shipping industry – with consolidation an option to "Enable carriers to create economy of scale and to optimise networks."
Minister of Customs, Hon Nicky Wagner, used her presentation to announce planned changes to be included in the Customs and Excise Amendment Bill.
Comptroller of Customs Carolyn Tremain described major workstreams for border modernisation and Murray Young, Chief Information Officer for NZ Customs Service, detailed timelines for delivery of the Trade Single Window.
Stephanie Winson of Maritime New Zealand, and Napier Port CEO Garth Cowie, outlined what introduction of SOLAS container weight Verified Gross Mass (VGM) will mean for the sector.
Steve Gilbert, Director of Border Services, Ministry for Primary Industries (MPI) discussed the challenges of growing exports while protecting our borders.
WorkSafe NZ Assessment Manager Nick Perham 'busted' myths surrounding new health and safety legislation – emphasising focus on worker engagement and participation.
Roger Gray, Group General Manager Business Performance for Air New Zealand, also focused strongly on safety, stressing that Air NZ is looking to consolidate its contractor partnerships, partnering with fewer larger partners, who share its safety values.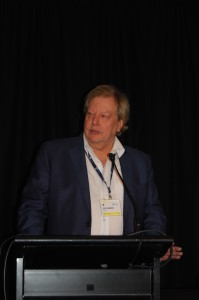 Richard White, WiseTech Global Founder and CEO, presenting on 'The Future of Logistics'