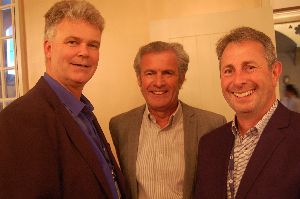 Glenn Coldham, National Customs Manager at DHL Global Forwarding (left), has been elected to his third term as president of the Customs Brokers and Freight Forwarders Federation of New Zealand (CBAFF).
Vice presidents are Steve Pugh, Customs Manager at GVI Logistics (right) in Christchurch, and Willie van Heusden, Country Manager for Damco (centre).
The elections were held at the CBAFF annual general meeting during the organisation's conference at Napier Conference Centre.
The conference also saw Phillip Burgess, South Island Manager for Burnard International, named as winner of the CBAFF Young Achiever Award 2017.
Phillip began his career straight from school 12 years ago with a small Christchurch company NZ Express International.
This was acquired by Toll Global Forwarding, who supported Phillip's studies for New Zealand Diplomas in Business, Sales Management and Marketing while working in various import operations roles.
During his OE Phillip successfully set up Toll's telephone sales department at Heathrow Airport before returning home in 2013 to a business development manager role with Toll.
He became Toll's top salesperson nationally before getting the opportunity to set up Burnard's South Island operation. He is now also studying for a Diploma in Management.
Phillip receives an all-expenses-paid trip to Singapore to meet agents and view an airport and seaport in operation; $1,500 spending money; a Leadership Management Australia (LMA) course; award plaque and complimentary attendance at the 2018 CBAFF conference.
Adela Bright, a customs broker with Go Air Land Sea in Auckland, was runner up, winning two return air flights to Fiji with Fiji Airways. Both finalists also received complimentary flights, accommodation and attendance to this year's conference.
The conference was attended by delegates from across New Zealand and the wider Asia Pacific, including Bruce Begley, president of The Customs Brokers and Forwards Council of Australia (CBFCA), and Brian Lovell, CEO of the Australian Federation of International Forwarders (AFIF).