Phillip Burgess left school in Christchurch 12 years ago with no idea of what he wanted to do. Today he heads the South Island operation for a global freight forwarder and has just been named the sector's most promising young professional.
Phillip, South Island Manager for Burnard International, based in Christchurch, is the 2017 winner of the Customs Brokers and Freight Forwarders Federation of New Zealand's (CBAFF) Young Achiever Award.
Now he is keen to encourage other young people to explore the career potential the sector offers.
"It's a great industry for the right young people, with few barriers to entry, but we tend to be an 'invisible industry'," said Phillip.
"International freight forwarding plays a significant part in many industry sectors, however our services and marketing focus generally doesn't deal direct with the public, so many people are simply oblivious to international freight and the complexities involved.
"From my experience, a freight forwarder is a unique person who gets satisfaction from the weird and wonderful challenges thrown at us on a daily basis. Generally people new to freight forwarding quickly determine if they possess those unique traits to embrace what is a very exciting and rewarding industry."
Phillip says that at school he was "more interested in washing my car than studying", and left without any career plan. However, his mother was working in the shipping sector and told him about a junior position with small local freight forwarder, NZ Express International.
"I didn't see it as a career at first," says Phillip. "It was initially an opportunity to get a job. However, I soon realised my passion for international freight forwarding and my aspirations to be a sales representative.
"I knew I'd encounter restrictions of experience versus the tertiary qualifications that open doors to experience, so I decided to hedge my bets and get both."
NZ Express International was ultimately acquired by Toll Global Forwarding, who supported Phillip's studies for New Zealand Diplomas in Business, Sales Management and Marketing while he worked in various import operations roles.
During his OE he successfully set up Toll's telephone sales department at Heathrow Airport before returning home in 2013 to a business development manager role with Toll.
He became Toll's top salesperson nationally before getting the opportunity to set up Burnard's South Island operation. He is now also studying for a Diploma in Management.
Phillip was presented with the Young Achiever award at the CBAFF annual conference, held in Napier. Entrants had to submit a detailed 2,000 word report describing a complex shipment process, import or export. Shortlisted applicants were then interviewed by a panel of industry representatives.
Phillip receives an all-expenses-paid trip to Singapore to meet agents and view an airport and seaport in operation; $1,500 spending money; a Leadership Management Australia (LMA) course; award plaque and complimentary attendance at the 2018 CBAFF conference.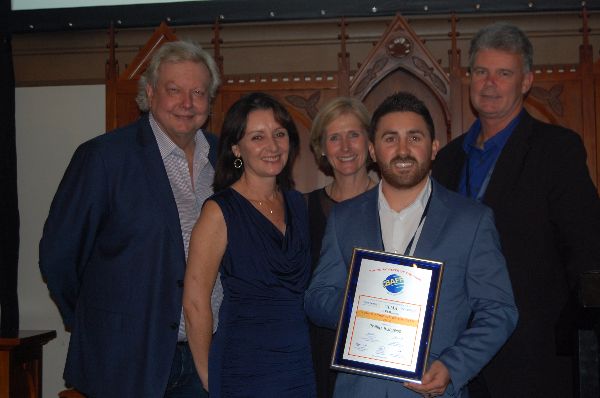 2017 CBAFF Young Achiever Award Winner Phillip Burgess with Award Partners. Left to right: Richard White of WiseTech Global, Tania White of Singapore Airlines Cargo, Suzanne Wilson of Leadership Management Australasia, Phillip Burgess and CBAFF president Glenn Coldham