Press Release – Customs Brokers and Freight Forwarders Federation
Kayla McKelvie of Whangaparaoa has won the Customs Brokers and Freight Forwarders Federation (CBAFF) Young Achiever Award 2016.
The 23 year-old, who works for Oceanbridge Shipping in Takapuna, wins a trip to Singapore courtesy of Singapore Airlines Cargo, $1,500 spending money, and a leadership management course with Leadership Management Australasia (LMA).
She was presented with her award at the 2016 CBAFF conference in Queenstown and will also receive complimentary registration for the 2017 CBAFF conference.
Kayla, who attended Orewa College, and joined Oceanbridge following a gap year, had to write a 2,000 report on a complex import and export shipment as part of the award application.
"I'm delighted to have won and am really looking forward to the course and the trip to Singapore where I will meet my shipping agent and view an airport and seaport," she said.
"I wasn't sure what I wanted to do after school but I have family in the freight forwarding industry and they suggested I look into a career in this field. I love the diversity of the work – no two days are the same."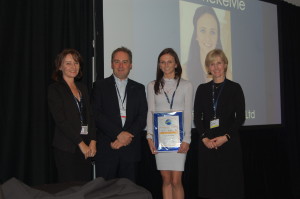 2016 CBAFF Young Achiever Kayla McKelvie with Award Sponsors. Pictured left to right: Tania White (Singapore Airlines Cargo), Scott McCorquodale (Cargo Community Network), Kayla McKelvie (Oceanbridge Shipping) and Suzanne Wilson (Leadership Management Australasia)
Runner up was Adela Bright, who works for Go Logistics, Auckland.
CBAFF Executive Officer Rosemarie Dawson said: "The award recognises a young person who is a high achiever within their chosen field in the customs broking/freight forwarding/international freight logistics industry and has the desire and skills to further themselves in their career.
"We congratulate Kayla on topping a very high calibre list of entrants and finalists. This is a very interesting and rewarding industry for young people to be involved in and we believe Kayla and Adela have very bright futures ahead of them."